This post may include affiliate links to find a product mentioned. See my full Disclosure for more info.
~This Post contains affiliate links for you to easily find a product mentioned.
Spring is here and Easter has almost arrived! This year 11 of my favorite bloggers got together to share the Easter Version of Crafts on a Budget Hop! We are given a budget of no more than $10 and are challenged to create an Easter craft using items from the dollar store or dollar section of other local stores.
Moss covered crafts are all the rage for Spring decorating. When I picked up this coco liner in the spring plant section of the Dollar Tree Store I thought what a great alternative to moss! What a perfect color for a natural bunny craft. It was then I knew it would make a cute festive door hanger.  Here is how I made this easy Coco Liner Easter Bunny Wreath~
Easter Bunny Wreath
Supplies:
3 Coco plant liners, $1
2 Styrofoam wreaths, 9.8 inch & 7.8 inch, $2
Pink Burlap Ribbon, $1
Various spring stems, $1
Sharp scissors
Straight pins, $1
2 wood skewers or toothpicks, $1
Small foam circle shown above not used.
Instructions:
Gently pull and stretch the molded coco liner to make it lay as flat as possible.
Place one of your wreaths in the center of the liner and trim the liner to fit over the edges for the size of your wreath.
Cut triangle slits out of the liner every 4 inches going around the outside of the foam wreath.
Hot glue the liner to the wreath. Glue slowly around the wreath allowing the glue to thoroughly dry before going on to the next section. I used straight pins to hold the liner in place and snug to the foam while the glue dried. Repeat with the other wreath.
Glue the two wreaths together and to stabilize them, place two skewers or toothpicks pushed through both wreaths. Add glue to the picks and between the liners. Let it dry.
Pull and stretch the third coco liner out flat. Cut the liner in half with sharp scissors. Take one-half of the liner, leaving the straight cut side alone and cut a rounded outer ear side out of the liner.  Using this ear as a guide, lay it on top of the other half of the liner and cut an exact copy of the ear out. Trim the rears down to suit your wreath size. Hot glue them to the back and top of the smaller wreath.
Add a strip of pink burlap ribbon and tie in a bow. Add a few spring picks and hot glue them to the back of the bow.
Now you can easily buy a pom pom for the tail or simply leave it off. I wanted a big fluffy tail, so I used my Jumbo Clover 4.5 inch Pom Maker to make one. See my detailed instructions on how to use the Clover Pom Pom Maker post. Hot glue the tail on the bottom of the large wreath. Add a hanger on the back by gluing a small piece of twine or yarn between the ears. And that's it!
He's so fun and I really liked working with the coco liner. It is so easy to mold and stretch into and around objects. I am totally going to use it from now on as an alternative to moss.
What would you cover with coco liner? I'd love to know what your ideas would be!
Did you like this post? If so I'd love it if you would share it!
#Easter Bunny Wreath using a Planters Coco Liner as a base!
Click To Tweet
 Now onto the Hop!
Thank you so much for joining me in this blog hop today! I've teamed up with 11 other extremely talented bloggers to share our Easter crafts on a budget. Each of us was given a budget of no more than $10 and challenged to create an Easter inspired craft using items from the dollar store or dollar section of our local stores. If you have any budget friendly Easter crafts to share, please add it to the link-up at the bottom of this post so it can be seen on all of our blogs!
---
 Meet the Hosts!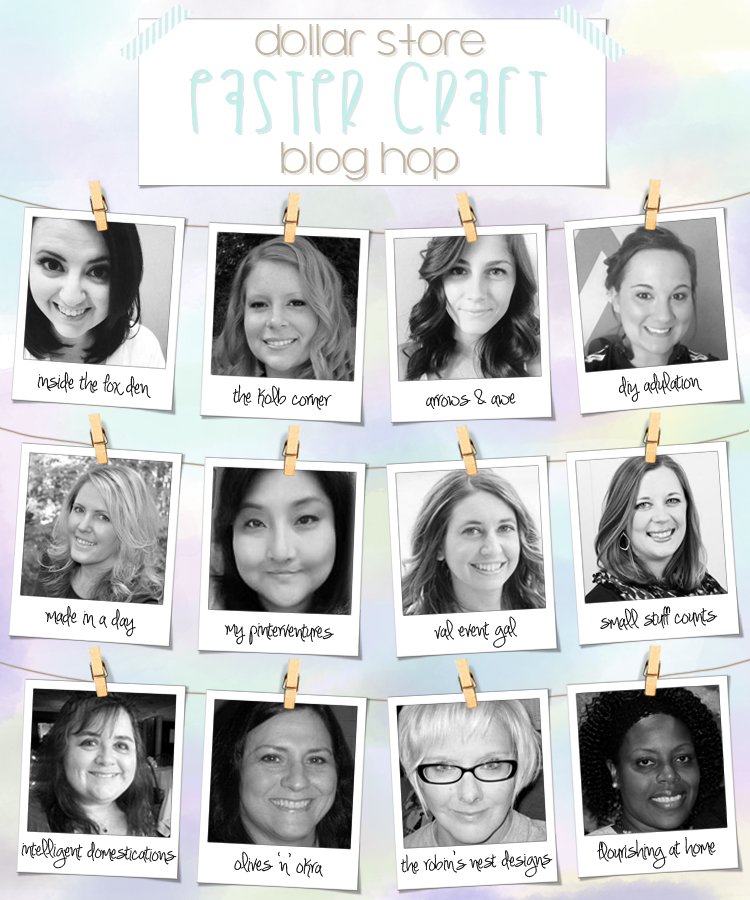 ~ This post contains affiliate links, I will be compensated if you make a purchase. There is absolutely no cost to you. I'll just make a little so I can buy craft supplies.
Check out more of my Craft Projects~
DIY Pom Pom Keychain
Easter FREE Printable Quote
Follow Made in a Day's board HOLIDAY | EASTER on Pinterest.